Art

#glitch
#rugs
#sculpture
#textiles

Ornate Rugs by Artist Faig Ahmed Ooze Onto the Floor in Drippy Fabric Puddles
November 18, 2021
Grace Ebert
Azerbaijani artist Faig Ahmed (previously) has amassed a staggering archive of sculptural carpets that blur the boundaries of digital distortion and traditional craft techniques. Often monumental in scale, his fringed rugs are woven with classic, ornate patterns on top before they billow into a pool of glitches and skewed motifs.
Ahmed weaves conceptual and historical relevances into his most recent trio, which is on view as part of his solo show PIR at New York』s Sapar Contemporary through January 6, 2022. Each piece draws its name from a spiritual leader who profoundly impacted Azerbaijani culture, including Shams Tabrizi, Yahya al-Shirvani al-Bakuvi, and Nizami Ganjavi. The carpet inspired by Tabrizi, who was Rumi』s mentor, for example, 「gradually dissolve(s) into a black woolen space of nothingness, much like the final stages of a mystic』s spiritual journey: annihilation (fana』) of one』s individual ego within the divine presence, like the flame of a candle in the presence of the sun.」
Visit Ahmed』s site to see behind-the-scenes photos of his process and to explore a larger collection of his fiber-based sculptures.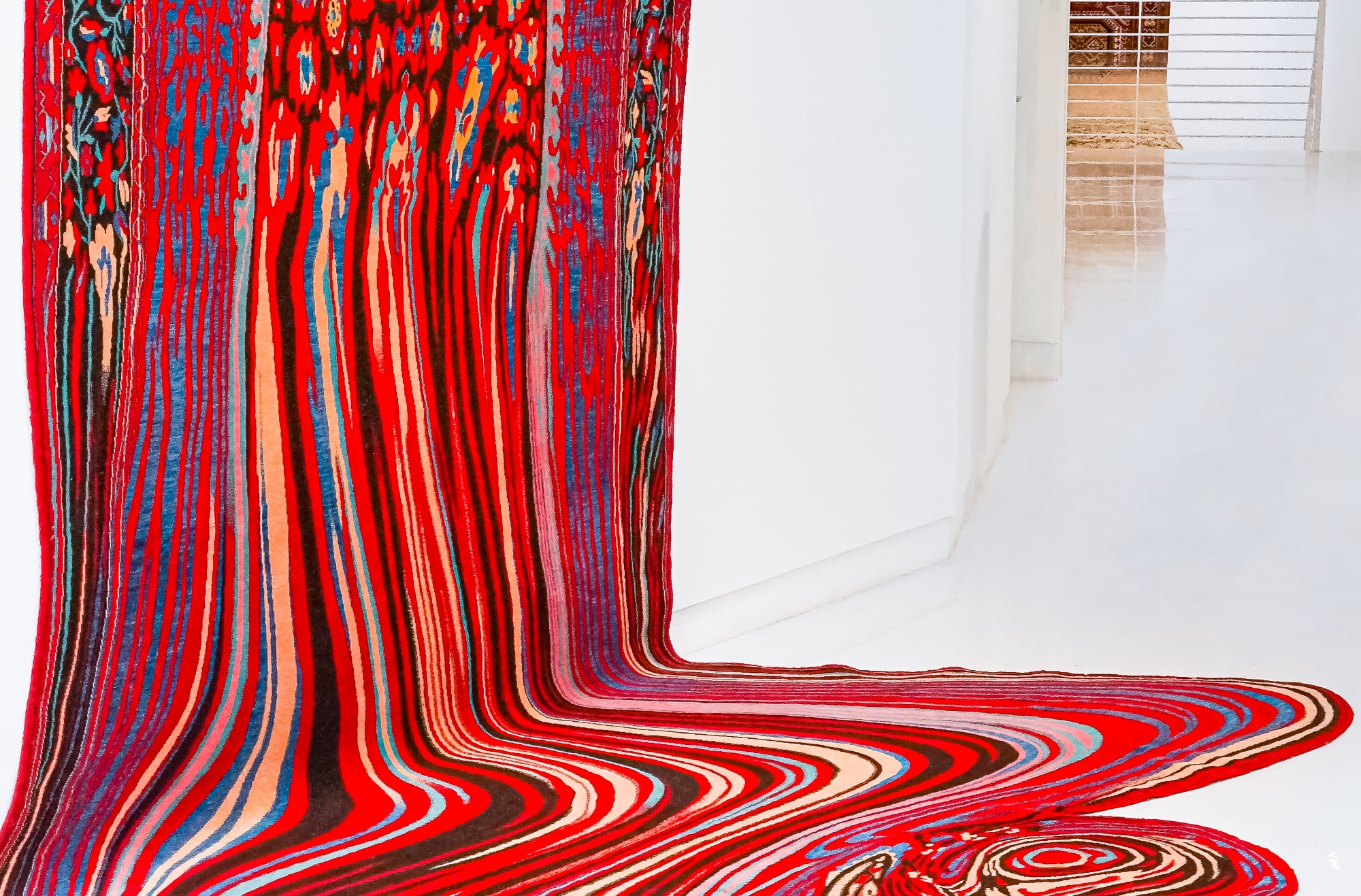 #glitch
#rugs
#sculpture
#textiles

Do stories and artists like this matter to you? Become a Colossal Member and support independent arts publishing. Join a community of like-minded readers who are passionate about contemporary art, help support our interview series, gain access to partner discounts, and much more. Join now!
Share this story
Also on Colossal
Related posts on Colossal about glitch rugs sculpture textiles
Faig Ahmed Creates Glitched-Out Contemporary Rugs from Traditional Azerbaijani Textiles
---
Glitched-Out Rugs Designed from Traditional Textiles by Faig Ahmed
---
A Staggering Sculptural Rug by Artist Faig Ahmed Pours into an Amorphous Puddle
---
Fringed Rugs Bulge and Fold in Illusory Paintings by Artist Antonio Santín
A Temporary Lawn Planted Amongst a Patchwork of Persian Rugs
---
---
文章來源於互聯網:Ornate Rugs by Artist Faig Ahmed Ooze Onto the Floor in Drippy Fabric Puddles