Locomotion animations are known to be tasking and complex. Animators need to know how to properly align motions, smoothly blend them together, and have proper directional control. Even animating simple walks and turns requires tedious work. Meanwhile, in the gaming world, players are naturally skilled with the capability to steer the character's motion, trigger different fighting skills, and interact with the environment. This logic is now built-in with intuitive simplicity in iClone for the best of both gaming and animation worlds.
In 2019, Reallusion began researching how game companies create smooth and natural interactive character experiences. Through years of development, iClone 8 now introduces an innovative solution for character motions using game-like controls. Features cover speed changes, natural turns, smooth transitions, and blended trigger motions; it works both for piloting protagonists and automating NPC actions.  
INTRODUCING MOTION DIRECTOR
Motion Director is a powerful feature inside iClone 8 that exemplifies the Play2Animate philosophy of Reallusion. Accomplishing simple human movement normally requires many steps, and Motion Director is an intuitive way to make motion control interactive, highly natural, intuitive, and expandable with behaviors and triggers. These new motion creation features are helpful for ultimate player control, AI compatibility, and the ability to simulate multiple characters at the same time.
Simply put, Motion Director is a unique tool for animators to create motions, layout scenes, and control single or multiple characters in a hybrid gameplay experience. In addition, this system is fully expandable so users can keep adding character abilities.
WHO CAN BENEFIT FROM MOTION DIRECTOR?
Digital content creators are not always well-trained animators. The goal of iC8 Motion Director is to enable anyone to create character animation with greater speed. MD is ideal for first-time animators, gamer filmmakers (Machinima), and AEC (Architectural, Engineering, and Construction) simulators. It also helps pre-visualization directors, and filmmakers to easily set up an acting plan for later animation refinement, or whoever requires autonomous character behaviors in a 3D space. 
FEATURES
The MD features in the iClone 8 first release include game piloting, mouse waypoints, zone animation, follow capabilities, perform triggers, and random idle behaviors. Combined with iClone's powerful motion blending, layering, and reach-constraint editing, users can derive unlimited motion possibilities and let characters easily interact with the surroundings.
Macro Record and Playback
This type of motion control offers new editing capabilities. Since the motion is interactively generated, they record the events as editable macros for replay and review while the animated result is also able to be recorded to the timeline for motion editing.The unique macro editing provides an easier way to re-sequence any set of commands given to the character when controlling and using triggers.

MD Motion Expansions
Two MD expansion packs were released along with iClone 8.0 to increase the character's abilities, seamlessly in tandem with the included male and female casual MD motions.
Pedestrian Actions: quickly enliven a crowd simulation scene with 14 automatic walking styles and 11 idle motion styles. Supports both player control mode and ai-control mode.
Athletic Run: add interactive Run and Dash modes to your characters, with both iMD standalone and extension data to existing iClone8 Casual Movement.

Motion Director is well beyond just hotkeys and motions, there is a real science to building an intelligent motion-matching system, and Reallusion has expanded it into a fully scalable system."

John Martin, Reallusion Vice President.
Here's a quick breakdown of this amazing technology:
A. Sampling real performer's behavior in all moving patterns and speed
Inspired by Ubisoft motion matching technology introduced at GDC 2016, the team first starts with a comprehensive set of dance cards, which are motion maps that outline a path a performer needs to follow during mocap. The dance cards are marked on the floor, and a large enough area is required to capture the motion artist performing each dance card at various rates of speed. Each corner or angle in a path designates where the motion artist should turn or pivot and a direction to continue.

All dance cards are performed at different speeds for walking, jogging, jumping, and running. The motion performances capture much more than just movement—it's also important to get a sense of weight shift with speed turns. This extends beyond motion loops, as the capture even records crucial complicated feet crossing when turning or pivoting. All of this data makes for a believable motion system that feels like a game but is an entirely new approach to animation with iClone 8.
B. Motion AI Calculation
The team gets all the information needed from capturing these dance card motions to incorporate into their motion AI. This dataset is used to generate real-time character movement, turn on any angle, stop, or shift speed velocity with any character in iClone 8.
C. Event Triggers and Realtime Motion Matching (AI or Device Trigger)
Acceleration and direction in the gamepad control stick or keystrokes originate from the pre-calculated capture data and real-time motion matching.
All characters and even large gatherings can be navigated through the scene with a range of motion speeds and behaviors.
Event triggers can originate from users' device input or sent by AI request. Idle, stroll, walk, and jog ratio settings determine the navigation speed along the path.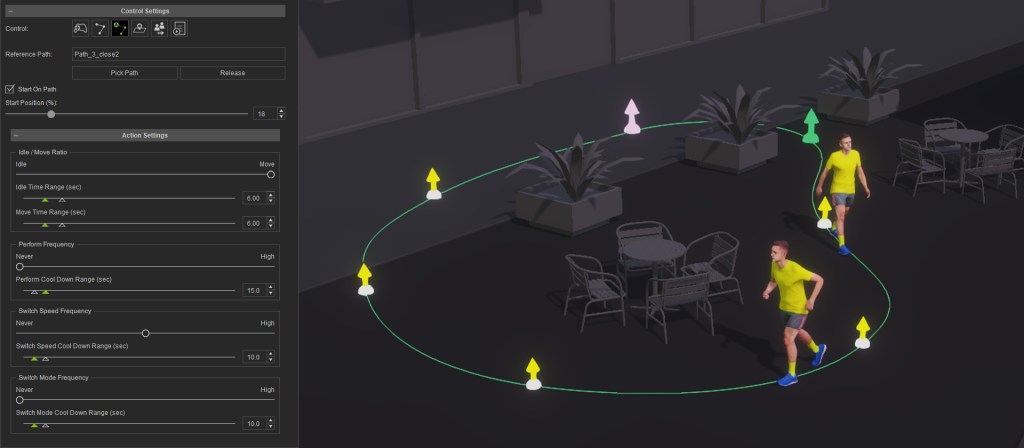 D. Perform Trigger During Different Movement Speed
Augmenting motions with blended motion triggers adds even more nuance to the performances. Combining other motions triggered by keystrokes or the gamepad while the character is moving lets the character add action while walking or running. For instance, a character could be walking down a street and then trigger a phone conversation that will blend with the upper torso of the character. Another example would be the jump trigger that is set by default so that a character can jump while walking or running, just like in a video game. The MD Behaviors panel has complete control to set up the additional behaviors and trigger motions.

E. Motion Expansion and Behavior Management
Motion Director has character motion behaviors for strolling, walking, jogging, and an extension for Athletic Runs, including dashes and even running styles for agile runs or loose running movements. It's easy to apply the motion behaviors to characters with a simple drag-and-drop. The Casual moves that are included for everyone provide you with the walks and jogs that will be most commonly used.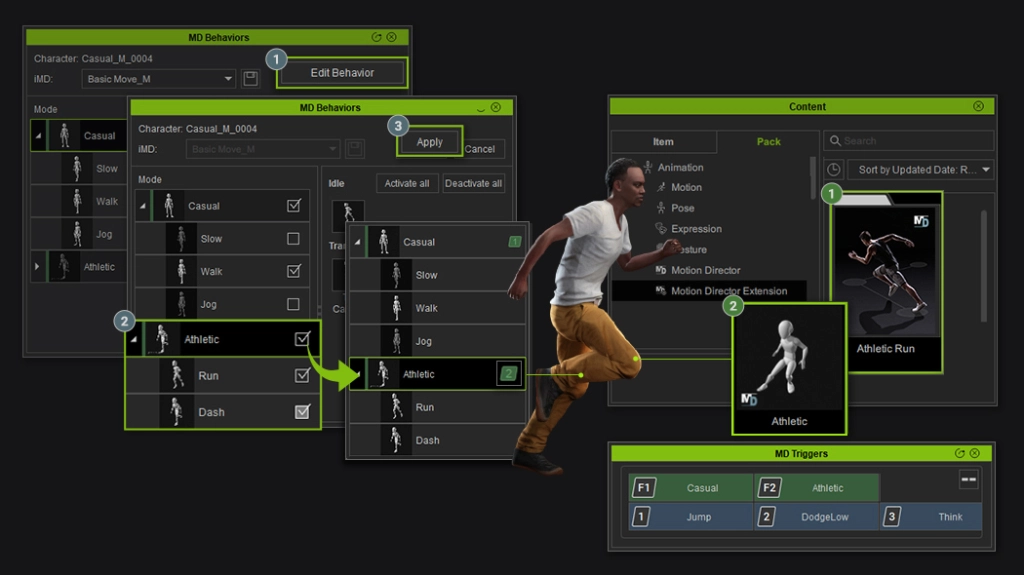 Drag in new MD motion from Galley, or turn on selected behaviors in MD Behavior Manager
CMII MOCAP PARTNERSHIP
Production of the iC8 Motion Director moves and dance cards began by collaborating with mocap professionals at the Creative Media Industries Institute (CMII), Georgia State University in Atlanta.
To facilitate the shoot, they also worked with Natural Point OptiTrack, and many staff members and students from the CMII. The challenge was that they needed a huge space that would enable their talent to reach top speed for the runs and dash captures.The solution transformed the GSU basketball arena into a massive capture volume with 72 optical cameras providing coverage of the space.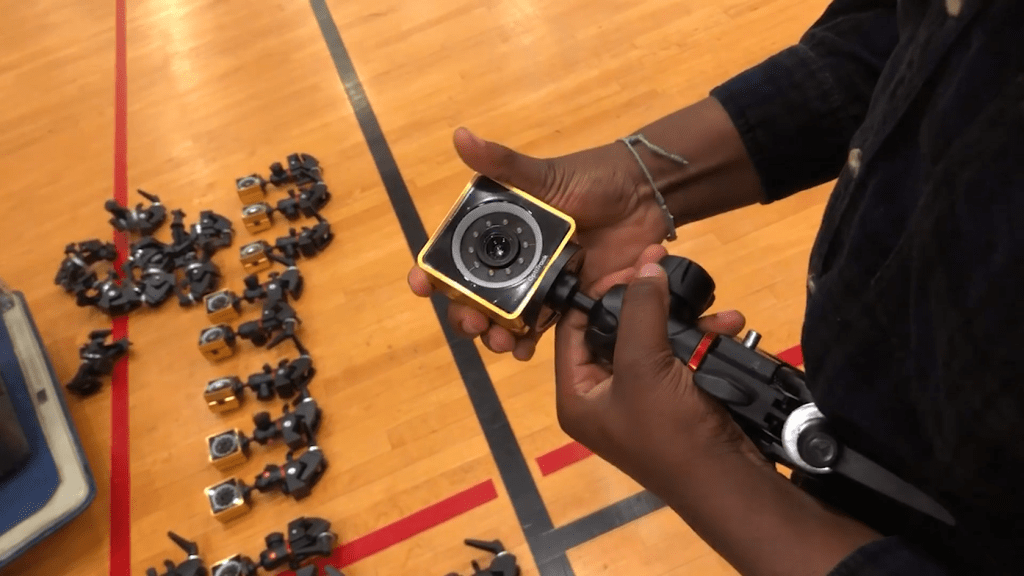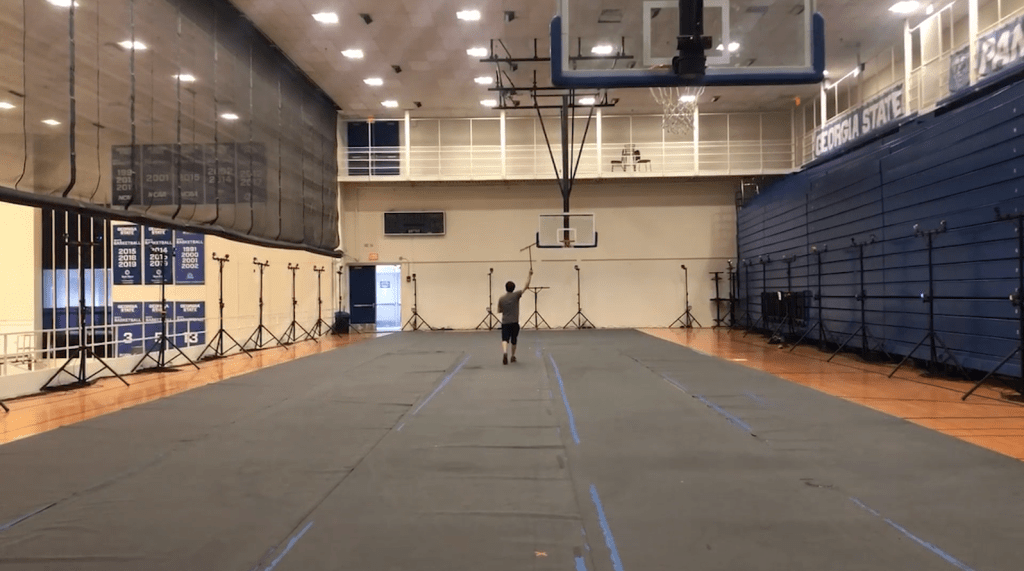 A cover was stretched over the basketball court to reduce any reflections that could challenge the cameras. Once that was complete, they added the taped lines for the dance cards to the floor so the motion talent could easily understand the performances they would be capturing.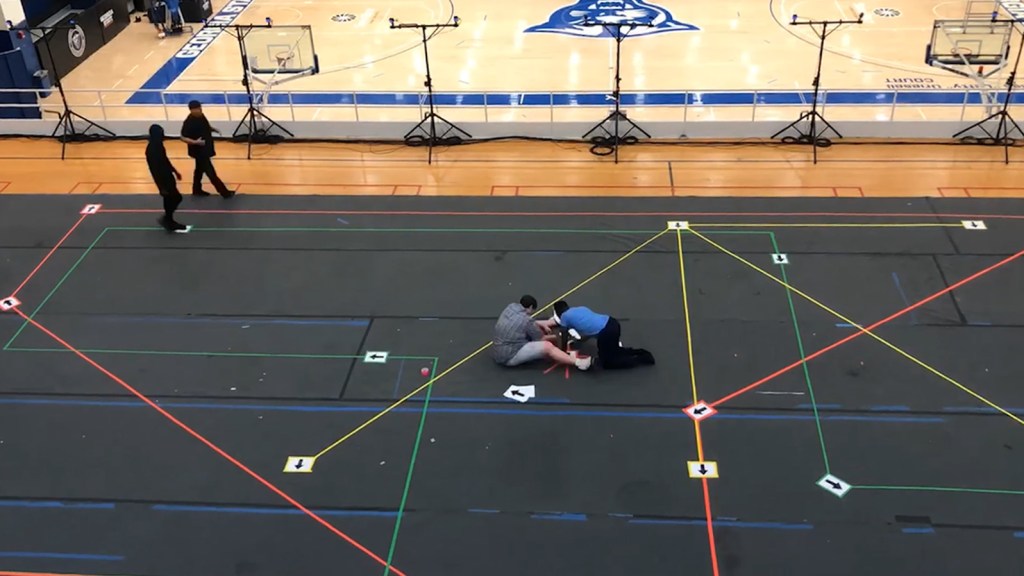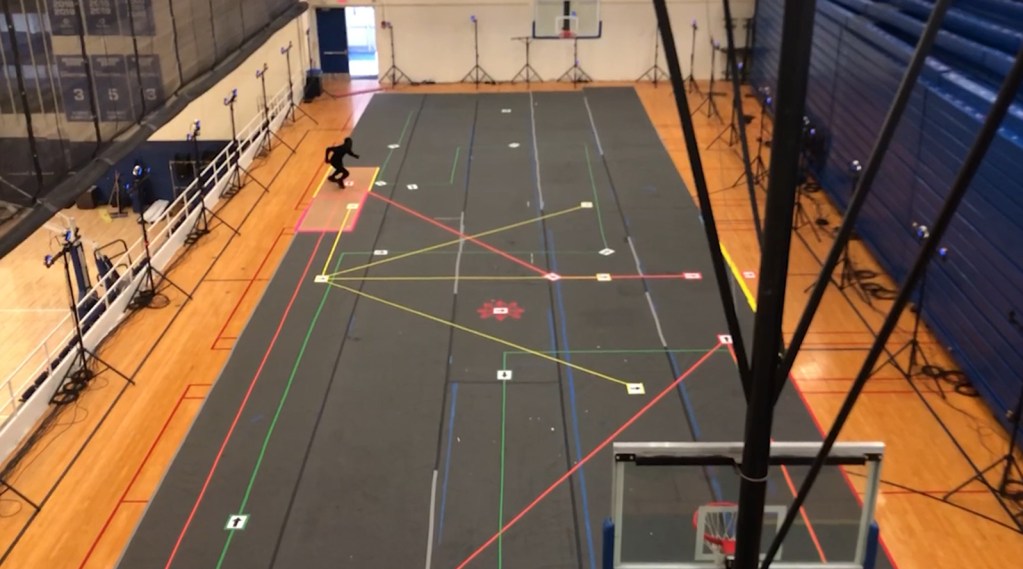 James Martin, GSU professor, and motion capture expert directed the shoot day and gave the talent a thorough walkthrough of the day's capture plan.A full day of motion capture commenced and over 100 motions were captured by the athletic motion artist.It's a big job for the planning, setup, and performance capture to meet the requirements of Motion Director.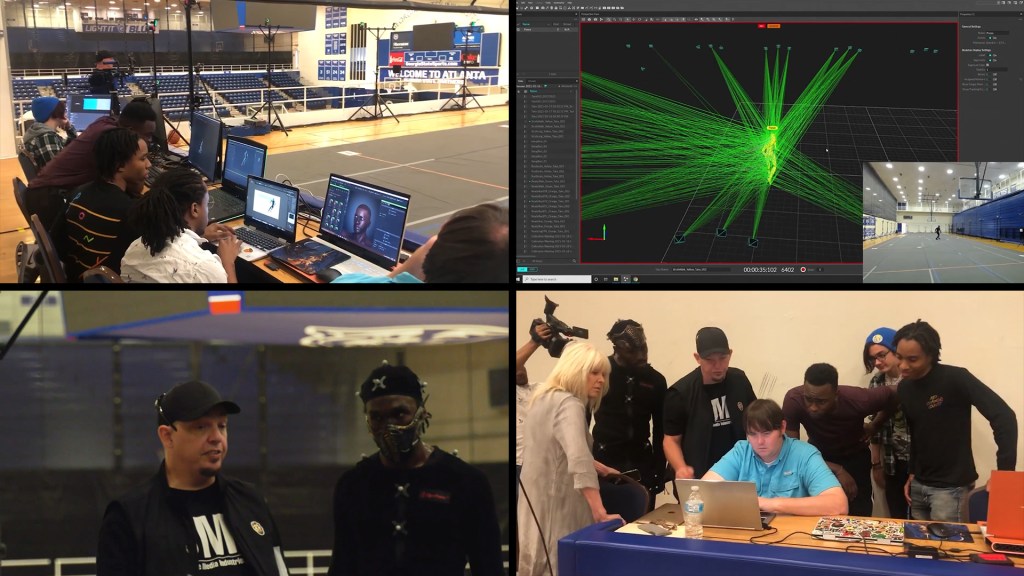 After the shoot, all the motions were cleaned and readied for engineering into Motion Director by the team at Reallusion. The final result of this collaboration is iC8 Motion Director, a big leap forward for every user made possible by an elite team at the CMII and the partnership with Reallusion.
FUTURE ROADMAP
The newly revealed Motion Director is just the tip of the iceberg—the surge of auto-animation has just begun. Here are more exciting features developing now for the upcoming iClone 8 releases:
Response to terrain height

Auto-detect the ground height to ensure the foot is on the ground.
Characters react according to changes in ground elevation.

Avoidance and Goal Seeking

Prevent collisions between characters.
Auto-search path to the target location.
Move away from an undesired target.

NavMesh for autonomous 3D space crowd navigation

Auto-project and define a walkable area from a given 3D space.
Mark borders and bounding areas to prevent collisions and crisscrossing.

Scalability for Crowd Sim

Support autonomous crowd scenes with hundreds of characters in LOD, with optimized MD data size and performance.

Motion Planning and Object Interaction

Sit on chairs, interact with target objects, and pick up and drop items.
Characters are aware of special interest spots, or other 3D people.

User MD Creation

Reallusion will open the MD motion creation tool to users for adding custom perform, idle, and interactive movements.
Reallusion's Actorcore keeps thousands of themed animations

Future MD Packs

Talking, singing, body languages, etc. help to speedily fulfill all sorts of production demands.

Recruiting Professional Motion Partners

Reallusion will choose experienced professional mocap studios for more movement styles, fighting or dancing movements, parkour, etc.
Build the MD world together and become a partner with Reallusion.
---
Learn more about Motion Director >
Discuss on the forum >
Find related video tutorials >