Art

#installation
#paper

Sprawling Paper-Pulp Mobiles by Yuko Nishikawa Suspend Whimsically Colored Pods in the Air
August 31, 2021
Grace Ebert
Hanging from the ceiling like candy-colored droplets, the paper-pulp mobiles by Yuko Nishikawa turn a stark gallery into a whimsical dreamscape. The Brooklyn-based artist fashions wide, sloping vessels and punctured rings from recycled packages, old diaries, sketches, and other waste materials, forming individual pods that attach to sprawling metal armature. Ephemeral in material and design, each piece is created with the intention that it will be unassembled and reverted back to its muddled form for resculpting.
With a background in ceramics, Nishikawa switched to paper last year because it's lightweight, doesn't require firing in electricity-dependent kilns, and is more durable once dry. The pastels and subtle hues she gravitates toward are inspired by the natural pigments of wool yarn, although she likens her process to mixing paints, saying:
I blended blue paper pulp and red paper pulp, and a bit of yellow paper pulp to make a muted purple paper clay. I combined them at their different blended stages, too ,to make varying textures and color effects. Mushy pulps would make homogeneous colors, while crumbly pulps would have a stippled effect. Finely blended pulps would become a smoother surface when dry, while coarser pulps would become bumpier like oatmeal cookies.
Designed as an invitation to imagine new ways of finding joy, Nishikawa's works all derive from the idea of piku piku, "a Japanese onomatopoeia that describes involuntary movements caused by unexpected contact," she writes. "I want my work to make you feel piku piku, tickling something deep down inside you."
This fall, Nishikawa will open a solo show at Kishka Gallery & Library in White River Junction, Vermont, and will also have work at Main Window Dumbo. Some of her mobiles are currently available through Room68, where she'll present a new collection later this year. Until then, see more of her pieces and works-in-progress on Instagram.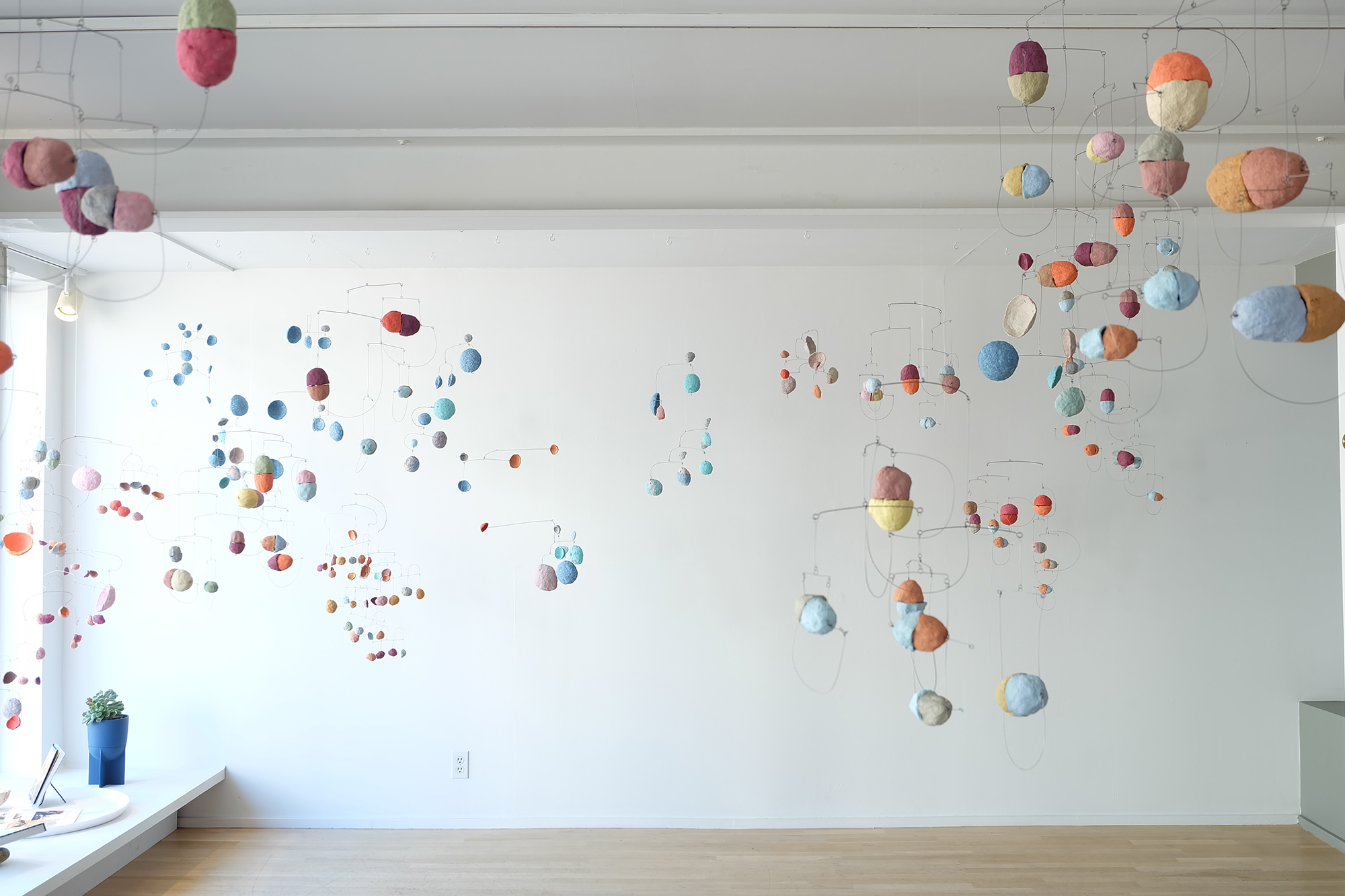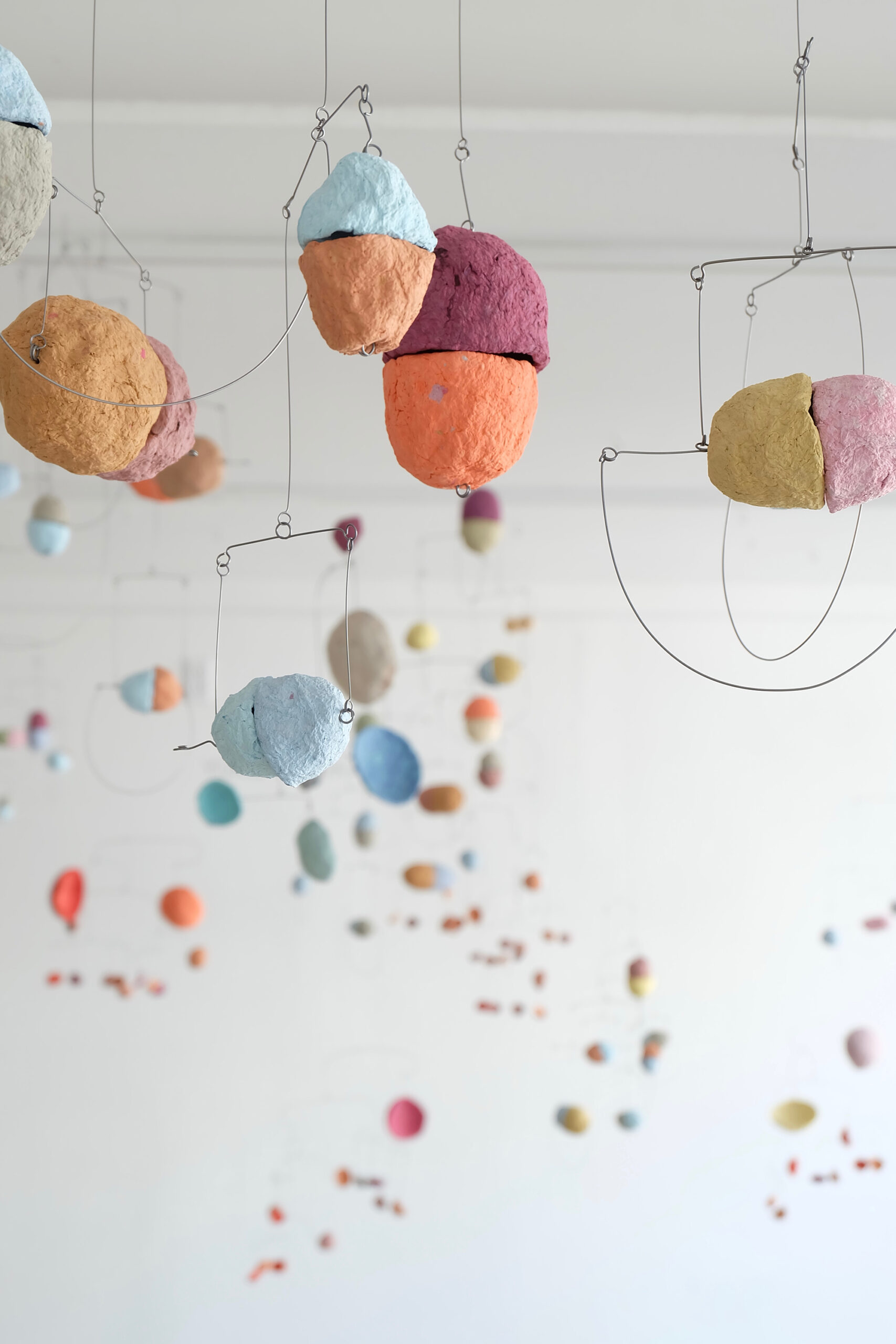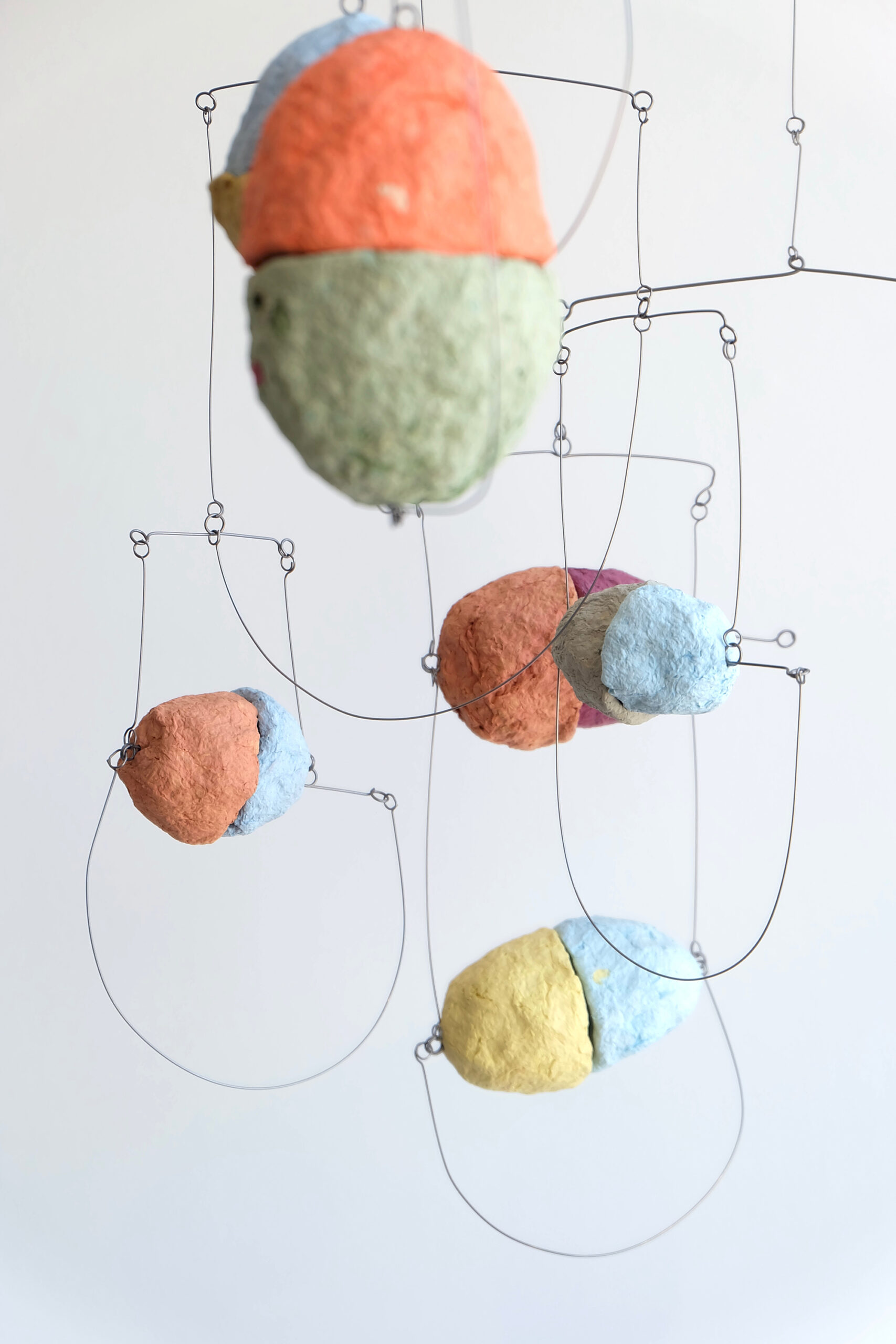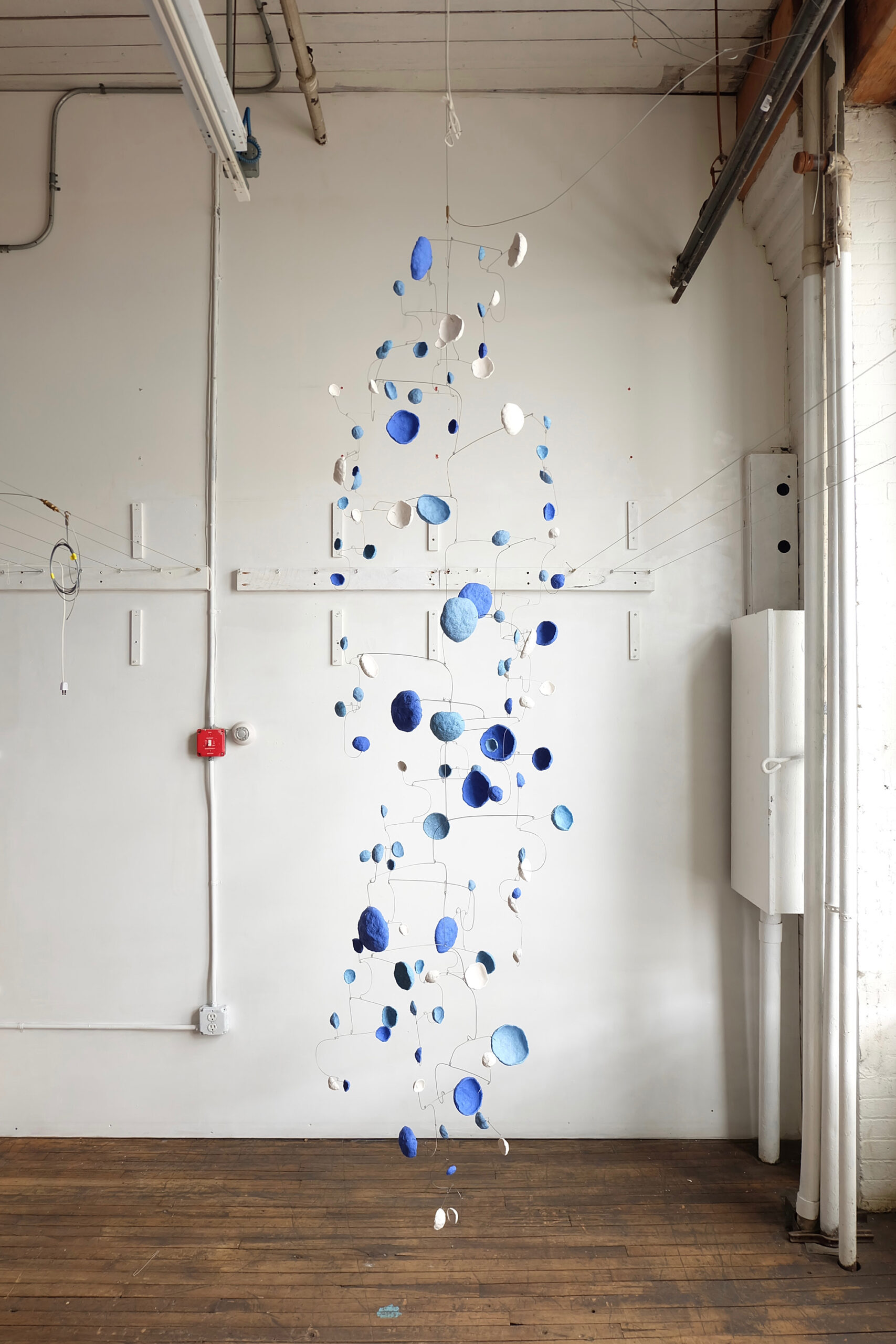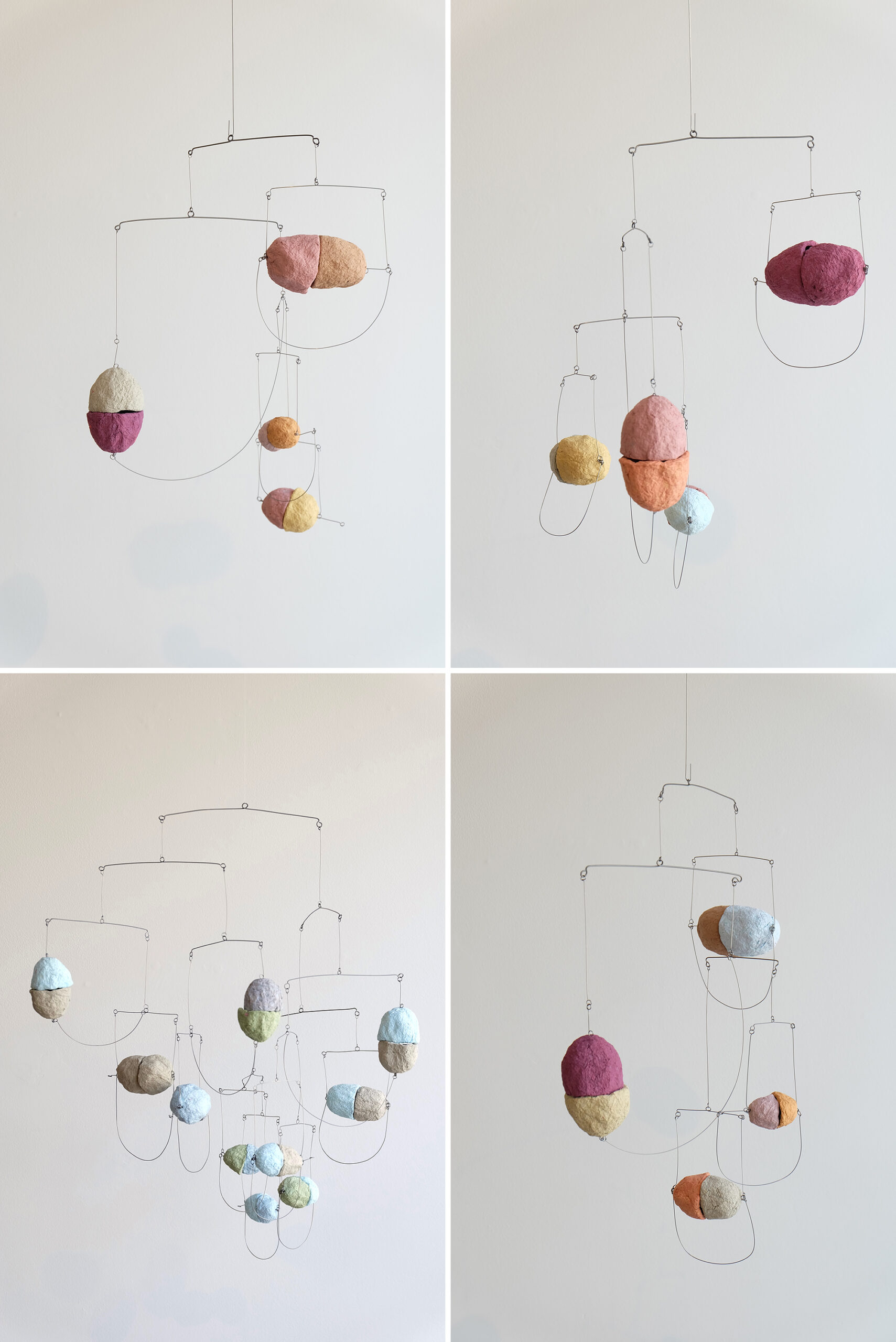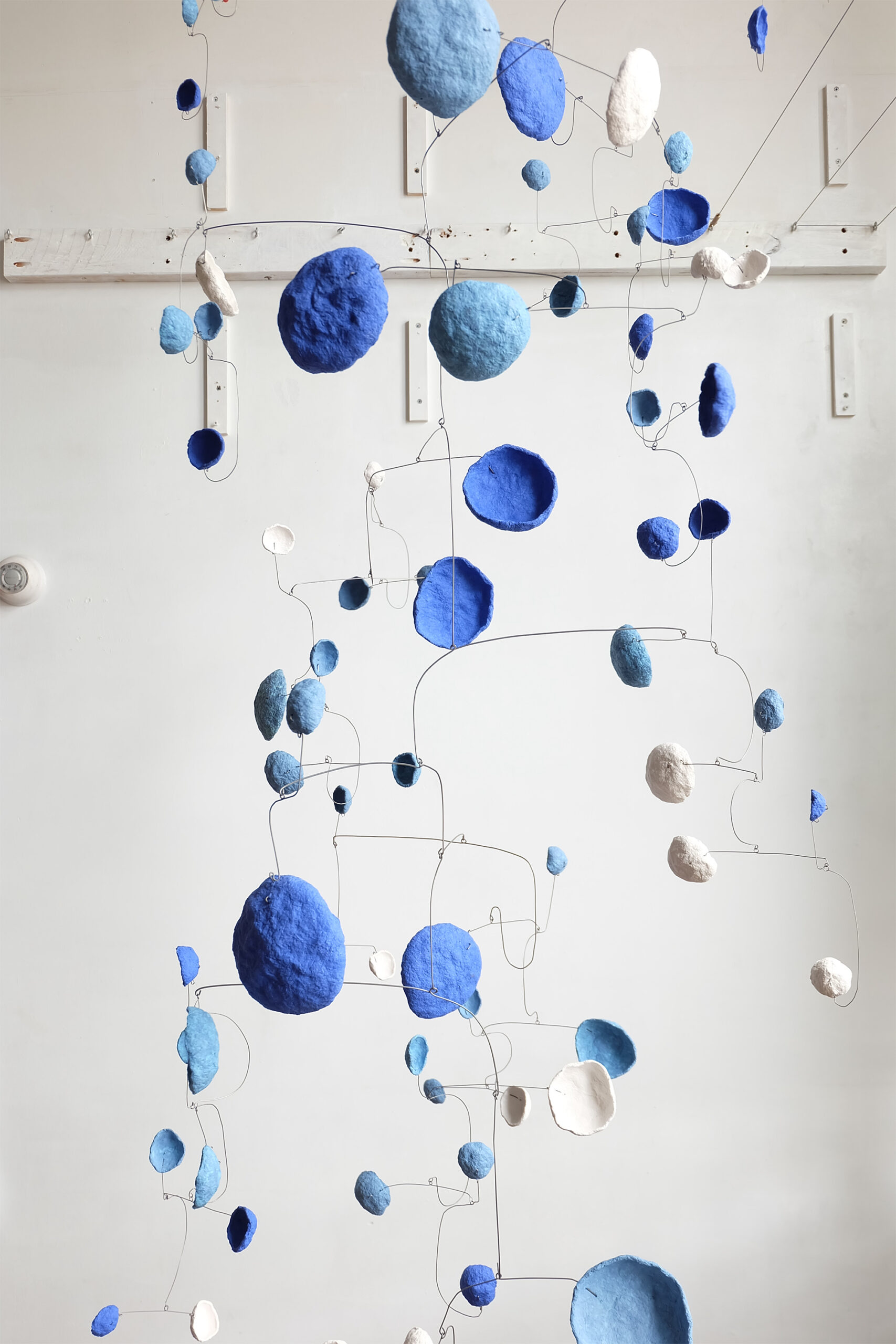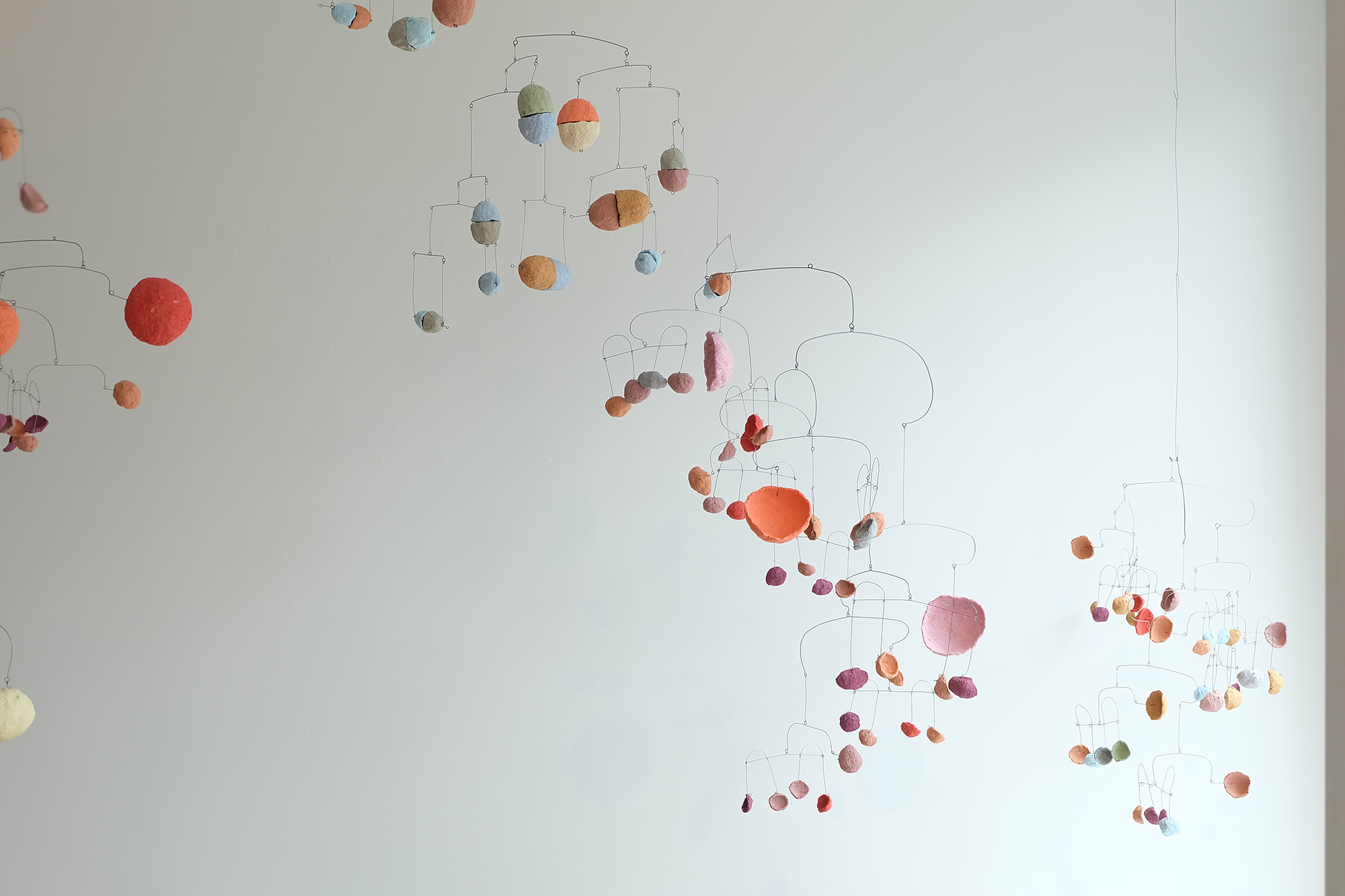 #installation
#paper

Do stories and artists like this matter to you? Become a Colossal Member and support independent arts publishing. Join a community of like-minded readers who are passionate about contemporary art, help support our interview series, gain access to partner discounts, and much more. Join now!
Share this story
Also on Colossal
Related posts on Colossal about installation paper
Jen Stark Unveils Colorfully Vivid Portals Based on Scientific and Mathematical Concepts at Joshua Liner Gallery
---
Artist Yuko Shimizu Utilizes Repetition and Primary Colors in Her Idiosyncratic Illustrations
---
Spiraling Rainbow Vortexes Created From Layered Paper by Jen Stark
---
PaperBridge: A Load-Bearing Arch of Paper Sheets Spans an English Creek
Colored Pencils That Sharpen Into Symbolic Japanese Flowers and Plants
---
---
This article comes from the Internet:Sprawling Paper-Pulp Mobiles by Yuko Nishikawa Suspend Whimsically Colored Pods in the Air