Game Week is making a comeback on ArtStation!
From November 13th to 17th, join us as we dive into a world of incredible game-related content.
ArtStation Game Week is also a great time to share your work as we'll be showcasing some of the best game art portfolios by the community. Don't forget to throw in those hashtags when you upload your projects to join the Game Week 2023 fun.
Discover and connect with game artists by following the Game Week 2023 featured channel all week long.
Ready to show off your game art? Go ahead and upload a new project or edit an existing project.
When uploading, make your project stand out by giving it as many details as possible. Don't forget to mention Game Art and relevant topics in the Subject Matter, the Software Used, and relevant Tags.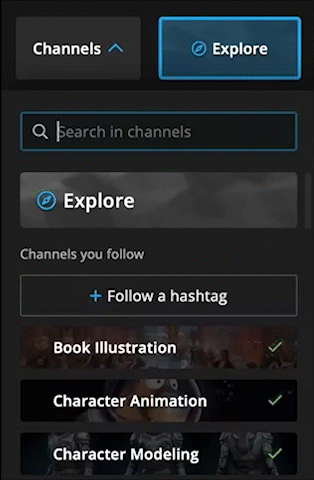 Your work will take the spotlight in the Game Week 2023 featured channel, front and center on ArtStation's home page during the event. Get ready for all eyes on your masterpiece!
Don't miss out on #ArtStationGameWeek on social media
We'll also be highlighting the incredible work of ArtStation's talented game artists all through the event on our official social media channels.
Follow @artstationhq on X, Facebook, LinkedIn, and Instagram to stay in the loop. Make sure you use the hashtag #ArtStationGameWeek in your posts for maximum visibility.
FAQ
How do I upload my work to a featured Channel?
When you're sharing your project in the portfolio manager, just go to the "Subject Matter" section and use the search bar to add the relevant topics. Once you publish, your project will show up on those channels.
How do I follow ArtStation Game Week's featured Channel?
Head to the ArtStation homepage, open the Channels menu, and use the search bar to find the Channels listed in our Featured Channel Schedule. 
Click the "+" icon to add Game Week 2023 channel to your homepage.