Art

#beads
#masks
#mixed media
#mythology
#shells

Evoking Mythology and Urban Culture, Beaded Masks Brim with Geometric Motifs and Embellishments
September 20, 2021
Grace Ebert
From small shells and Amazonian beads, Brazilian-Mexican artist Fefe Talavera strings together elaborate masks that fuse ancient mythologies and contemporary urban culture. The mixed-media works are part of an ongoing series—Talavera shares more on her site and Instagram, along with vibrant silhouettes painted in acrylic and her large-scale murals—that embellish expressive faces with stripes, symmetries, and various geometric patterns. Sometimes spanning upwards of ten feet or featuring a long tuft of straw, the masks are an amalgam of color, motif, and material that blur cultural boundaries and the tenuous distinction between humanity and nature.
The São Paulo-based artist tells Colossal that the series "developed when my government opened the doors to cattle ranchers, when forest fires began, putting an end to Indigenous tribes, exotic animals, and trees," and initial iterations used açaí seeds, shells, and mirrors to explore birth and death through a mystical lens. "When we looked at our reflection in the work, we would be seeing ourselves with respect and love, and it is this look that we should have with the Amazonia," she says.
Currently, Talavera is working on a larger-scale piece using 20,000 beads, and she has a solo show planned for May 2022 at Paris's Bandy Bandy Gallery.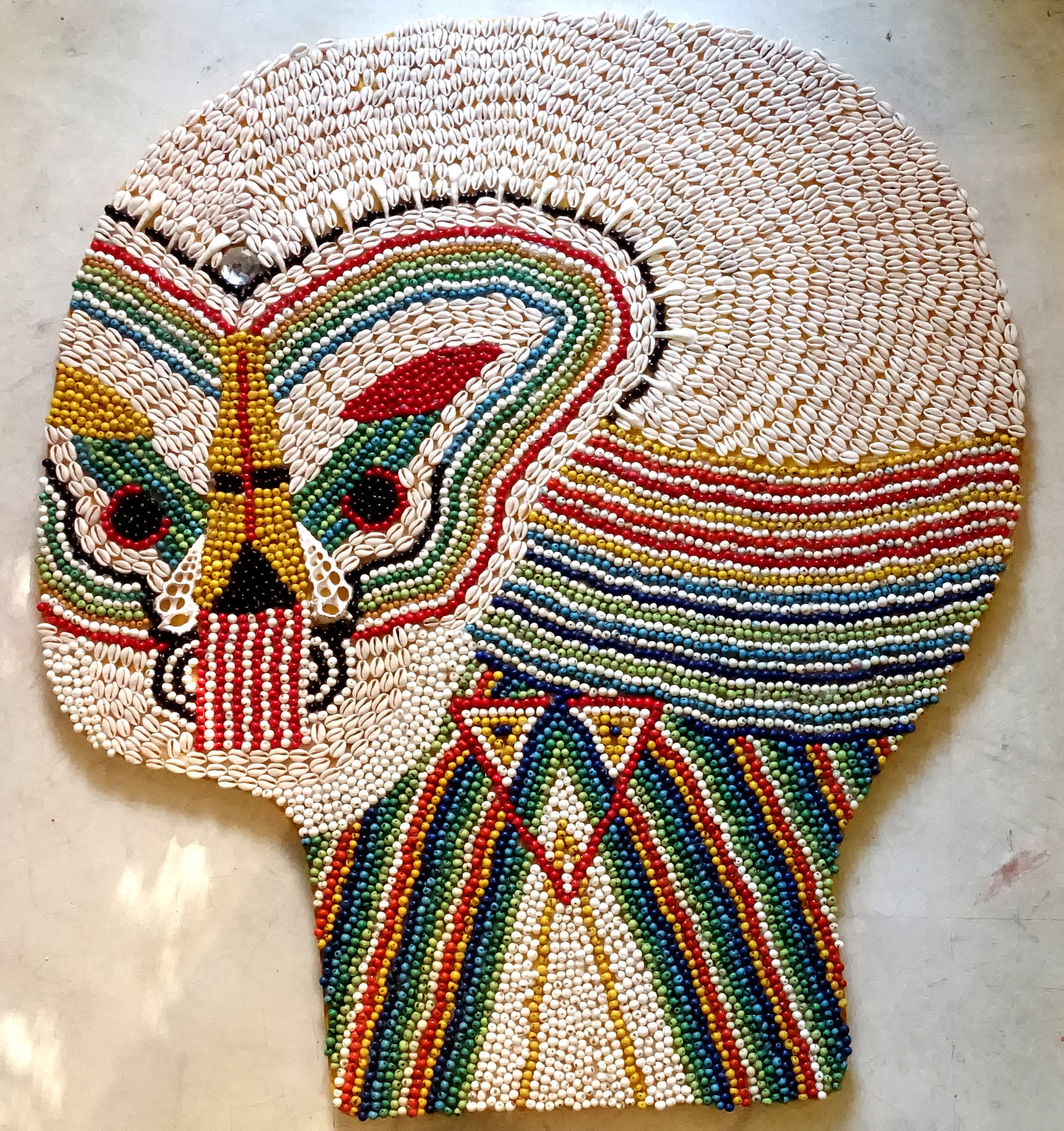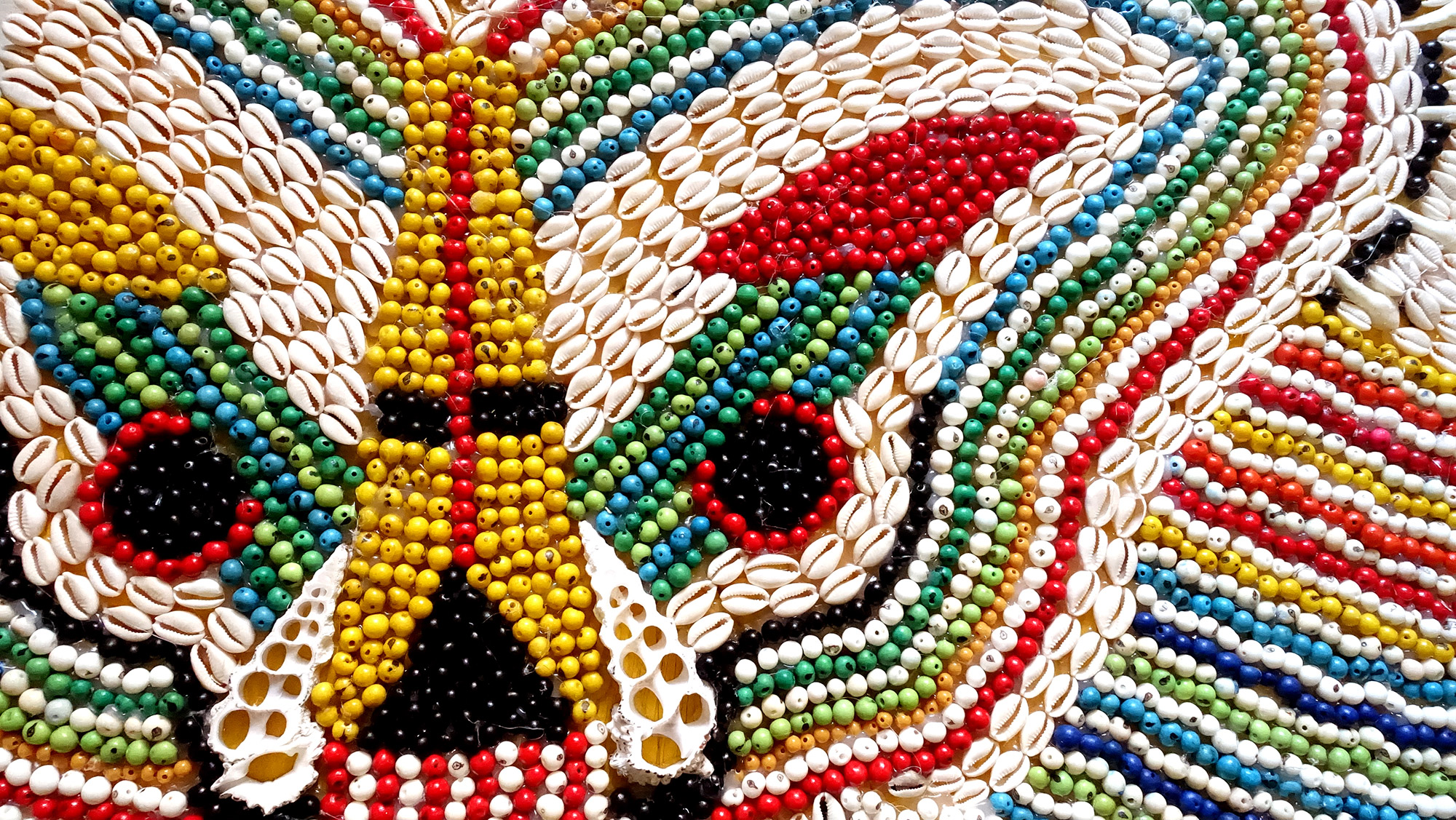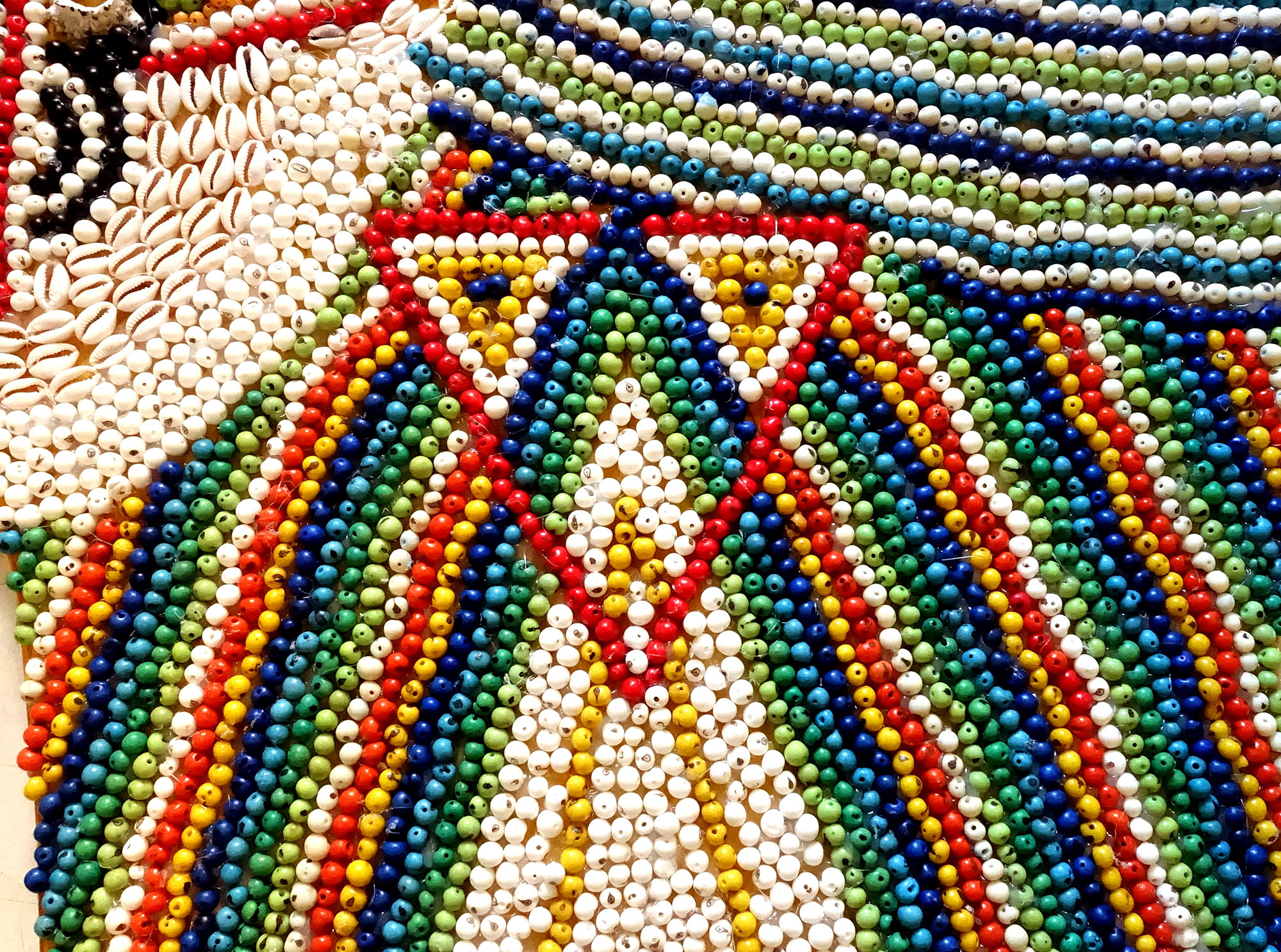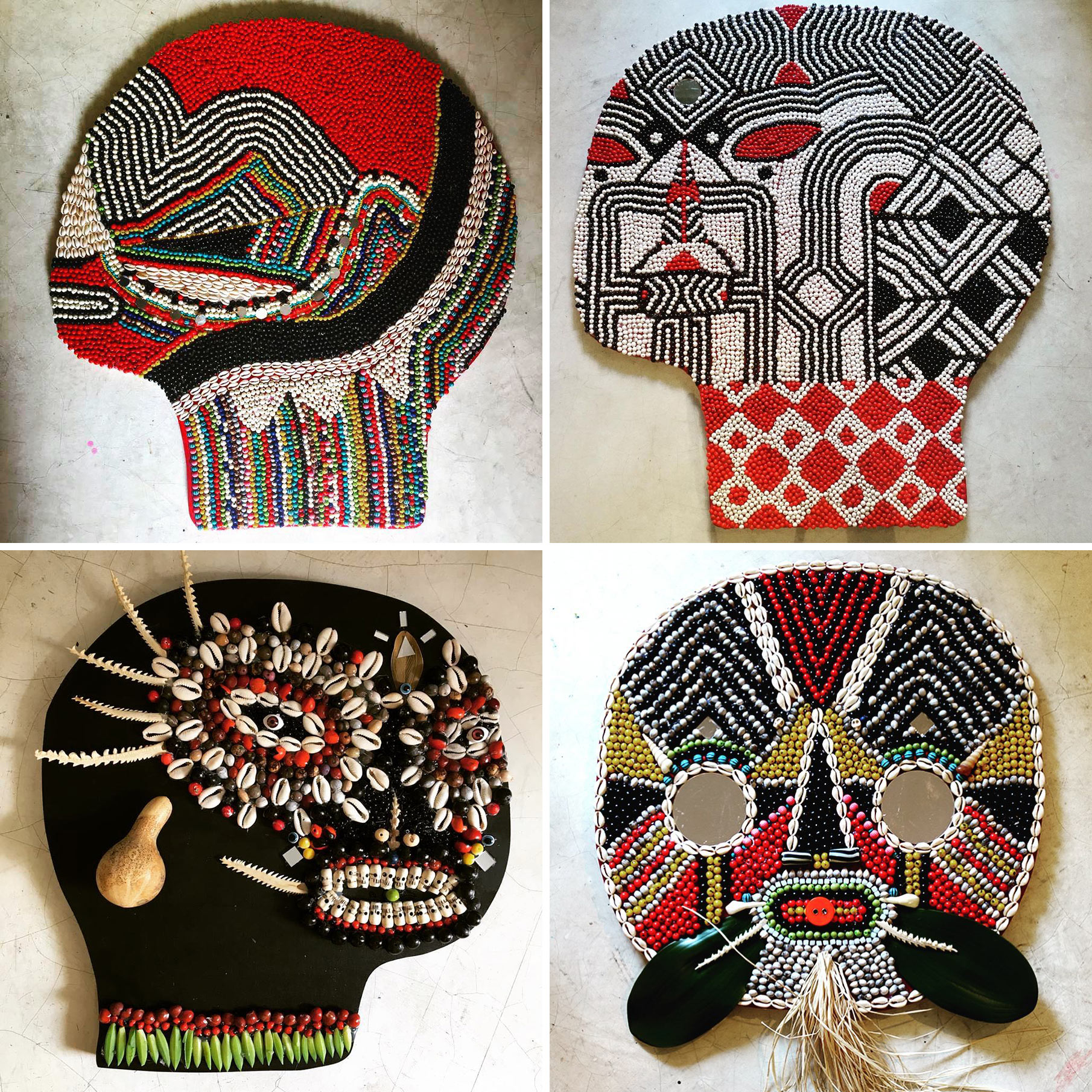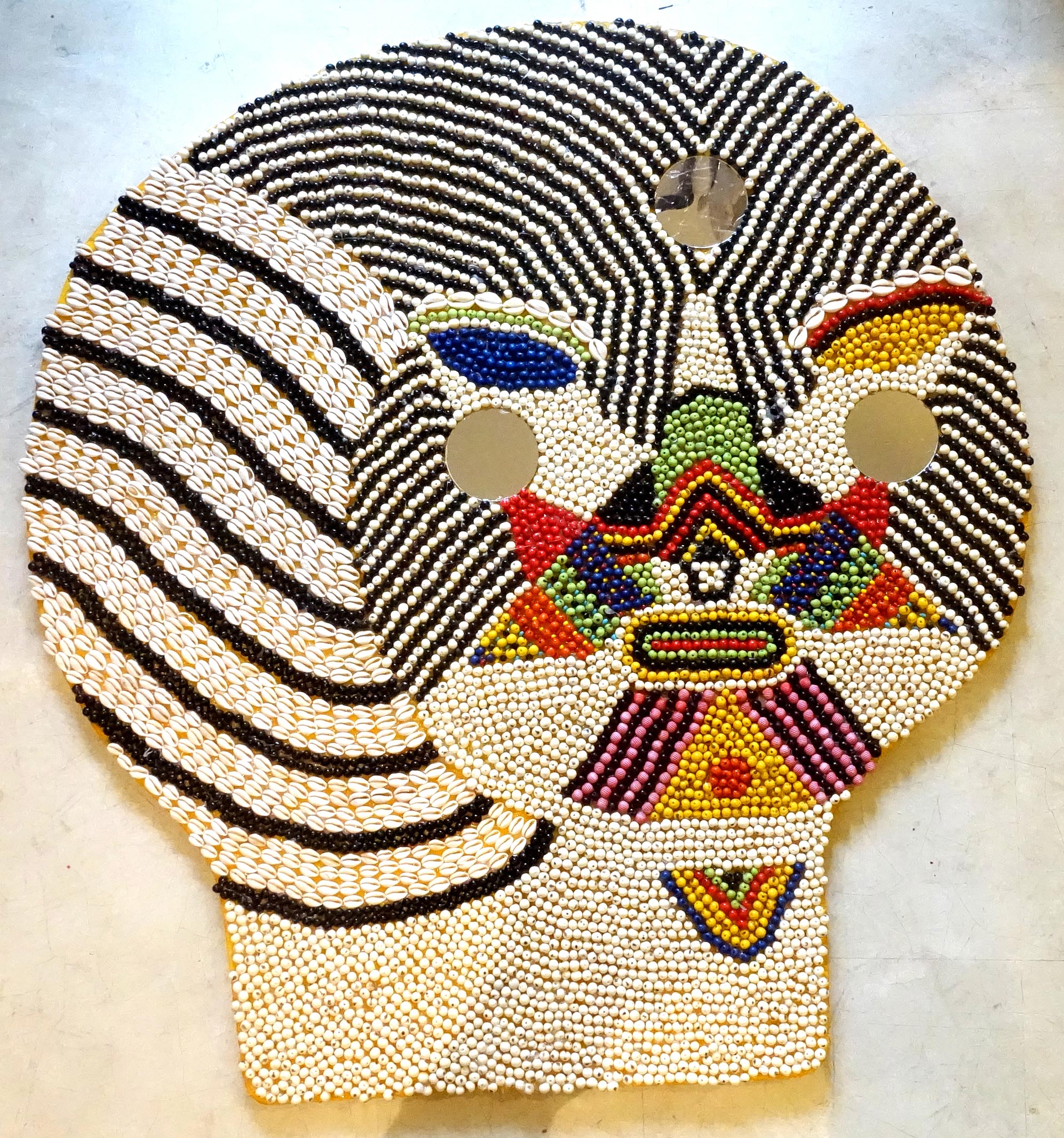 #beads
#masks
#mixed media
#mythology
#shells

Do stories and artists like this matter to you? Become a Colossal Member and support independent arts publishing. Join a community of like-minded readers who are passionate about contemporary art, help support our interview series, gain access to partner discounts, and much more. Join now!
Share this story
Also on Colossal
Related posts on Colossal about beads masks mixed media mythology shells
A Hypnotic Short Film Rhythmically Spins Through 3,745 Masks from Around the World
---
Evoking Fire and Air, Intricate Paper Masks by Artist Patrick Cabral Honor Filipino Culture
---
Artist-Designed Face Masks by Threadless Give Medical Supplies to Communities in Need
---
Brightly Colored Rope Masks Born from Happy Accidents by Bertjan Pot
New DIY Geometric Halloween Masks by Wintercroft
---
---
This article comes from the Internet:Evoking Mythology and Urban Culture, Beaded Masks Brim with Geometric Motifs and Embellishments