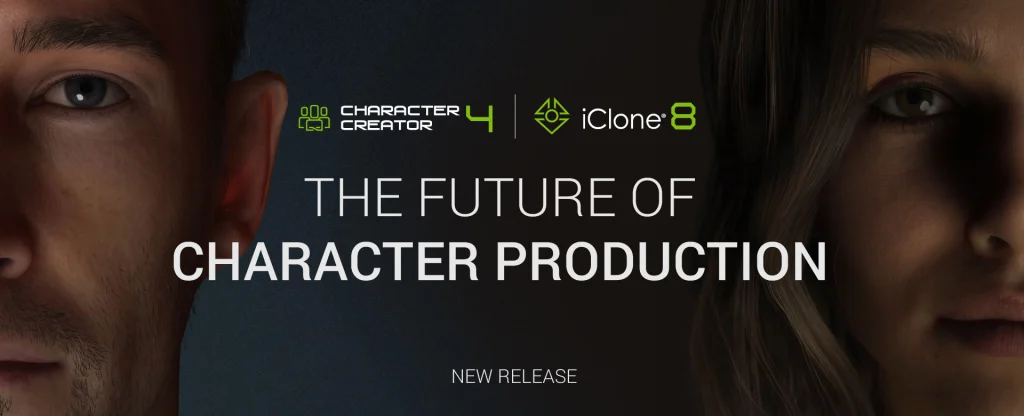 Reallusion Launches Powerful Character Pipeline – Redefine Design to Animation
Reallusion is again evolving Character Creator and iClone, the most user-friendly and dynamic character animation platform, with a monolithic leap in ability and creativity. The tandem release of iClone 8 (iC8)  and Character Creator 4 (CC4) delivers an array of accessible 3d character tools for generating and animating scalable digital humans or humanoids. CC4 and iC8 aim to provide creators with a unified and dramatically simplified solution for character setup and animation. 
The evolution supports custom IP and imported models, benefitting users from studios to artists with an illustrious toolset that now can be applied to any character. CC4 and iC8 opens the door to more storytellers and interactive designers with professional tools blended with ease of access and ultimate power. Take any character or animation to the platform of choice, from AR, VR or metaverse to games, films, and content for new emerging media.
ELEVATE CHARACTER DESIGNS (CC4)
Character Creator 4 goes deeper into character development with bilateral features for a new version of CC4 digital humans and imported humanoids that support all the animation setup tools associated with CC4 native characters. Broader compatibility with any character to become a CC4 character and also take advantage of the iC8 animation system. This is a big change to CC4 that opens the door to 3D artists allowing them to set up their characters for use with the real-time animation tools of iC8.
CC4 characters have the most customization for animation setup with custom blendshape import and assignment that unlocks the iC8 facial animation and lip-sync for any character model.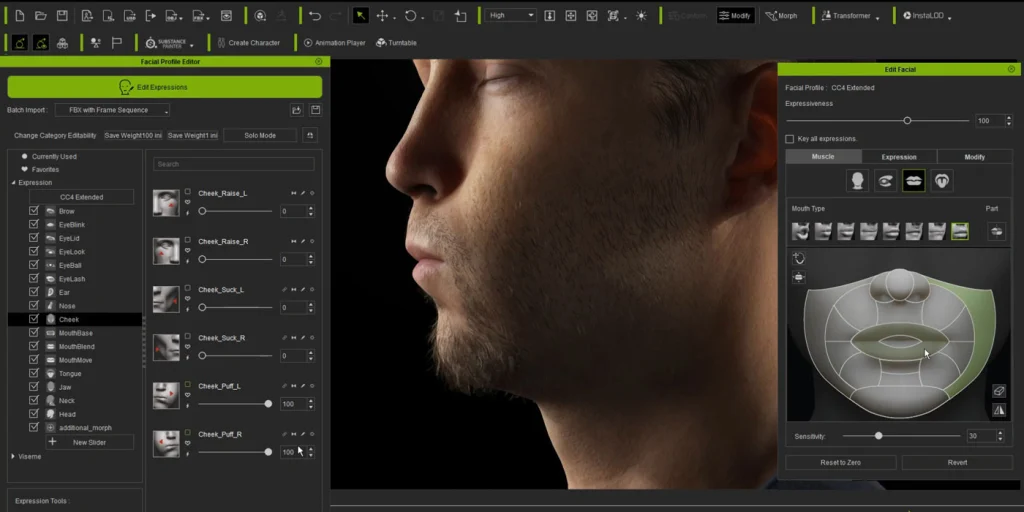 Top New Features of Character Creator
Extended Character Realism
The CC4 native character is upgraded with 140 blendshapes from 4D scanning for refined motion capture, face puppeteering and lip-sync with iC8 AccuLips. 
Enliven Any Character Rig
Whether humans, creatures or props, creativity is no longer limited by the existing CC character base. Any rigged biped models can be imported, characterized, and facial rigged in Character Creator.
Showcase Full-Motion Characters
Brand new animation features let character designers see and test living characters inside Character Creator, help to check character rigs, test cloth skin weight, setup physics, and render characters with a turntable. Glamorous realtime rendering with a library of realistic lighting, and optical effects (Lightroom and Atmosphere) optimized for digital human shader.
Auto Import From Popular Character Types
Character Creator can auto detect the imported character type when dragging in a FBX file. Supported character standards include Maya HumanIK, 3ds Max Biped, Blender Meta-rig, Mixamo characters and motions, and Daz3D G3/G8 characters and motions.
For a full product description, please visit Character Creator 4 website
DRAMATICALLY SIMPLIFY CHARACTER ANIMATION (iC8)
iClone 8 animation delivers a pro editing result with autonomous animation creativity. The Reallusion Play2Animate philosophy and Device LIVE features demystify the traditional animation complexities. Experience the balance of deeply refined editing controls blended with a new intuitive approach to animation. iC8 mixes the best of both worlds between gameplay interactivity and professional animation. Access editing tools to layout and lens scenes with devices for camera controls and animate characters with ultimate interactive and hands-on direction using gamepads, 3d mouse, and assignable hotkeys. 
Motion capture and animation editing in iClone 8 are refined with smart controls that assist in footstep/handprint reach-target locking for precise character performances with scenes and surroundings, character-to-object or character-to-character animation.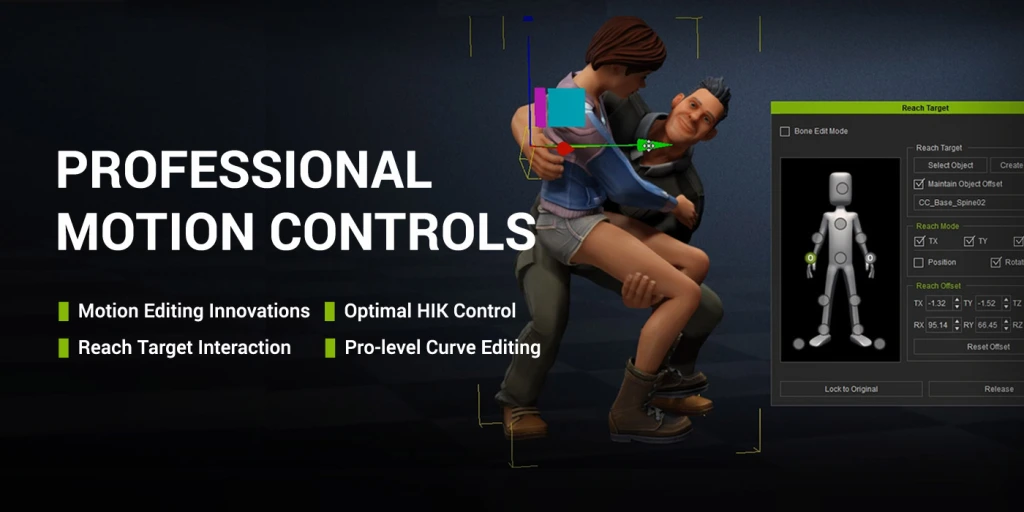 Top New Features of iClone 8
Professional Motion Controls & Mocap Editing
iClone provides powerful animation capabilities while keeping the process simple and intuitive. Whether users are new to the 3D industry or a veteran of professional tools like Maya or MotionBuilder, iClone's motion editing features and unparalleled simplicity can out-perform most animators' expectations.
Motion capture and animation editing in iClone 8 are refined with smart controls that assist in footstep and handprint systems
Reach-target locking for precise character performances with scenes and surroundings, character-to-object or character-to-character animation.
Motion key sampling, smooth filter, key reduction, and curve editing
Motion Director
The Motion Director system debuts gameplay controls to drive characters, apply motion triggers and dynamic cameras to direct scenes in real-time. Implemented with motion matching technology, the new feature provides smooth speed change, turns, and seamless motion transitions.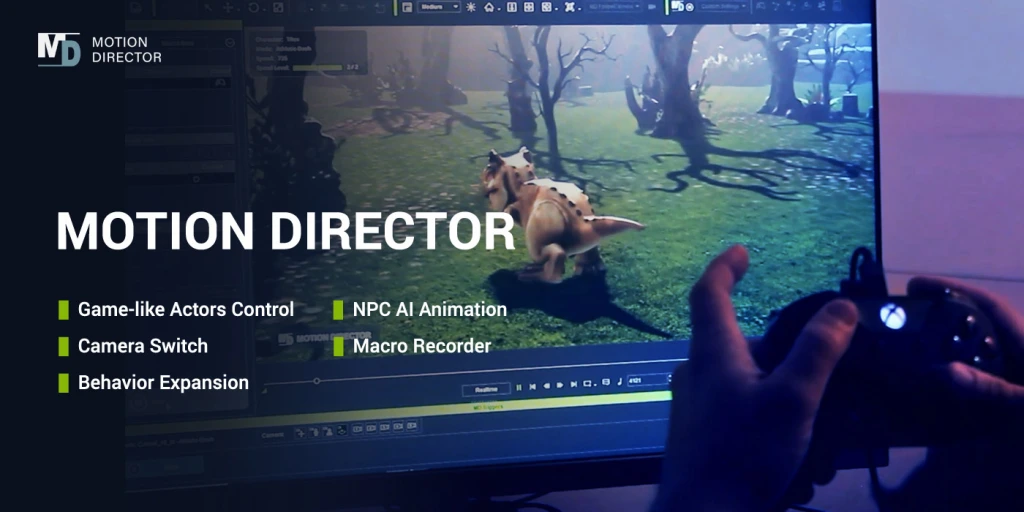 Game-like Actor Control – steer characters with a regular game controller, mouse-click waypoints, or conventional WASD keys.
NPC AI Animation – give autonomous idle, walk animation on path, in zone, or follow an animated object
Camera Switch – Switch up to nine camera views when steering the actor
Macro Recorder and Sequencer – record device input events and replay in user defined sequence, or bake to timeline
Behavior Expansion – allow adding new behavior to actors.
Custom Hotkeys & DeviceLIVE
Intuitively engage directing and editing with Live Switching, Trigger Effects, Slider fader, Jog Dial timeline scrubbing, Drone Camera navigation, and so much more. Almost all functions in iClone can map to custom hotkeys for assigning devices that interact as physical interfaces for ultimate scene control. Users from Maya, Max, or Blender can also choose their preferred mouse-keyboard convention for viewport control.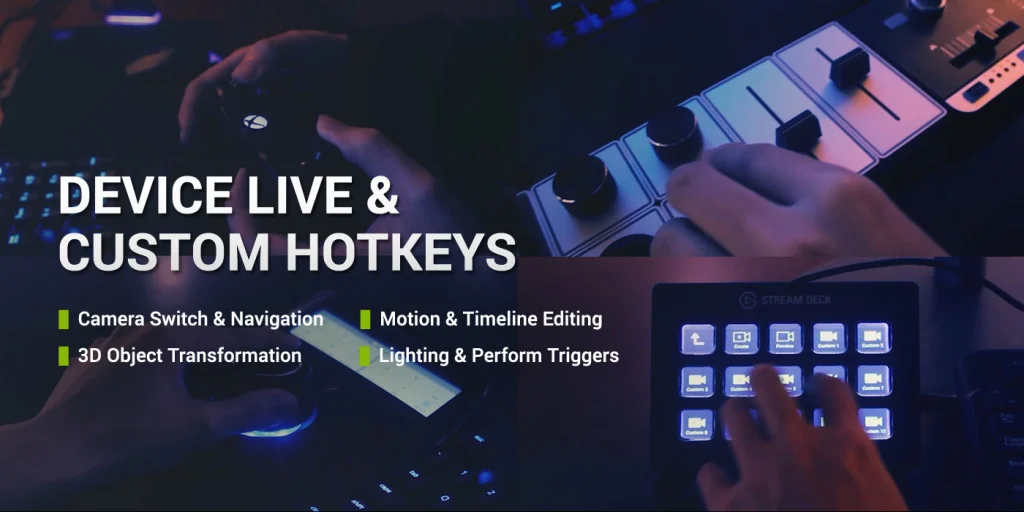 For a full product description, please visit iClone 8 website
SEAMLESS INTEGRATED CHARACTER WORKFLOW
Massive innovation inside iClone 8 and Character Creator 4 is helmed with the inclusion of new complete integration of 3DXchange that now seamlessly incorporates character setup and animation with drag and drop import, instant or custom retargeting, and a whole new Smart Content management system for fluid workflow.  
Smart Content Manager – directly download free resources or purchased assets within the content manager. The CC4/iClone8 shared folder design allows the same assets to be accessible from both programs, keyword searching and custom tagging for quick data access, Content Workgroup for team assets sharing, and the flexibility of central server access or multiple drive storage.
3DXchange seamlessly merges into CC and iClone, importing characters, motion, props and more with drag and drop FBX or OBJ
iClone 8 – Curve Editor, MotionLIVE are now standard features
CHARACTER PIPELINE TO ALL MAJOR PLATFORMS
Now there is more power than ever to the Reallusion pipeline from both CC4 and iC8 including features enabling creators to generate and export characters and animation in FBX or USD for the most popular platforms. Export CC4 and iC8 scene assets and characters for path-traced rendering in Omniverse, game output and virtual production in Unreal and Unity, roundtrip editing with 3D digital creation tools, and making next-level metaverse avatars.
UE5 AutoSetup and iClone Unreal Live Link
Unity AutoSetup 
Blender 3 – CC to Blender Tool  
iClone and Character Creator Omniverse Connector
Paid Content Packs – expand the power of iClone 8 and CC4
Lens Flare 200+  (for both CC4 and iClone 8)
A complete collection of Reallusion's Lens Flare library for cinematic realtime rendering with dynamic optical effects. Get now >
Digital Soul 100+  (for both CC4 and iClone 8)
Instantly inject believable souls to your digital actors, a total of 25 minutes long, 146 facial sequences meticulously produced at different conscious levels and emotional states. Get now >
Pedestrian Actions  (for iClone8 – Motion Director)
Quickly enliven a crowd simulation scene with 14 automatic walking styles, and 11 idle motion styles. Supports both player control mode and ai-control mode with Motion Director. Get now >
Athletic Run (for iClone 8 – Motion Director)
Add an interactive Run and Dash mode to your characters, with both iMD standalone and extension data to existing iClone8 Casual Movement  Get now >
---
Learn more about Character Creator 4 and iClone 8
Character Creator 4 >
iClone 8 >
Get complete information and extensive new feature details at Reallusion.com  
Price Information:
Products are available now to integrate into a complete character production workflow or for standalone creativity and development.  Find out more >