Reallusion is excited to announce big updates on both Character Creator 4.1 (CC4.1) and iClone 8.1. With the latest improvements, CC becomes a highly scalable solution with the ability to auto-rig any humanoid model. Meanwhile, enhancements to bidirectional data linking and timecode-synced recording makes iClone and Unreal a powerful duo in a demanding production environment.
Character Creator 4.1 Update Highlights
ADVANCED AUTO RIG – TURN STATIC MODELS INTO LIVING CHARACTERS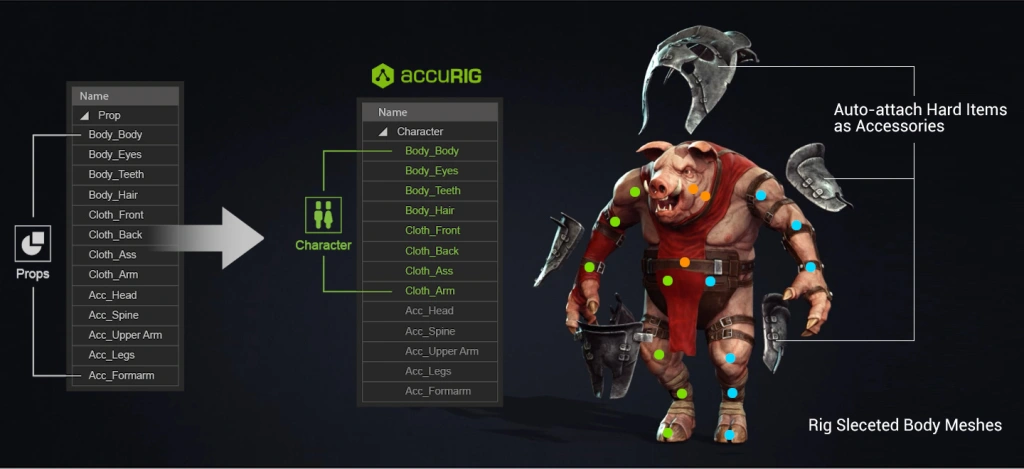 Built-in AccuRIG technology auto-rigs humanoid characters and provides critical functions to cope with complicated multi-mesh geometries. Hard surfaces can stay stiff while rigged to the skeleton. Skin weights can further be refined and skeletons restructured to accommodate any level of complexity.
Rig selected mesh and auto-attach hard surface items.
Skin weight editing for perfected joint movements.
Handle atypical models with bone masking.
Re-rigging for different levels of detail.
CHARACTER SCALABILITY – ONE CHARACTER, MULTIPLE APPLICATIONS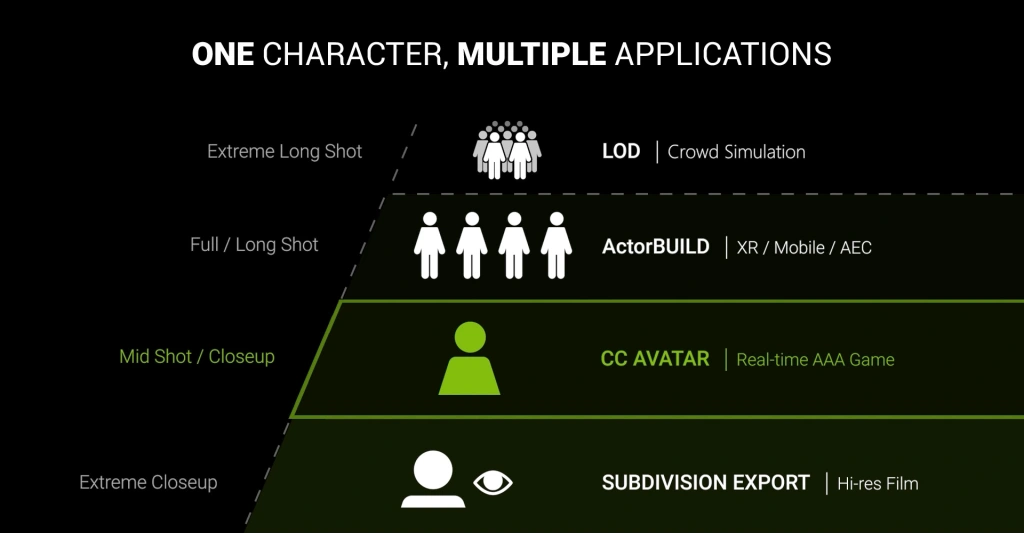 Choose to export subdivided characters for high-quality rendering or decimate meshes to optimize for mobile apps and crowd simulation. CC 4.1 gives the most flexibility to upscale and downscale characters using CC bases or auto-rigged from static meshes.
OPTIMIZE AND DECIMATE FULLY RIGGED CHARACTERS

By optimizing and decimating skin-rigged models with dedicated tools, Character Creator offers the broadest of use cases: from film production and game design to extended reality.
LOD presets geared toward fast character downscaling.
Custom reduction settings for bones, meshes, textures, gestures, and expressions.
Make animation-ready ActorBUILD characters for crowd simulation.
Works for all imported humanoids, whether from auto-rig or characterization.
SUBDIVISION EXPORT – REALTIME MODEL WITH HIGH-QUALITY RENDERING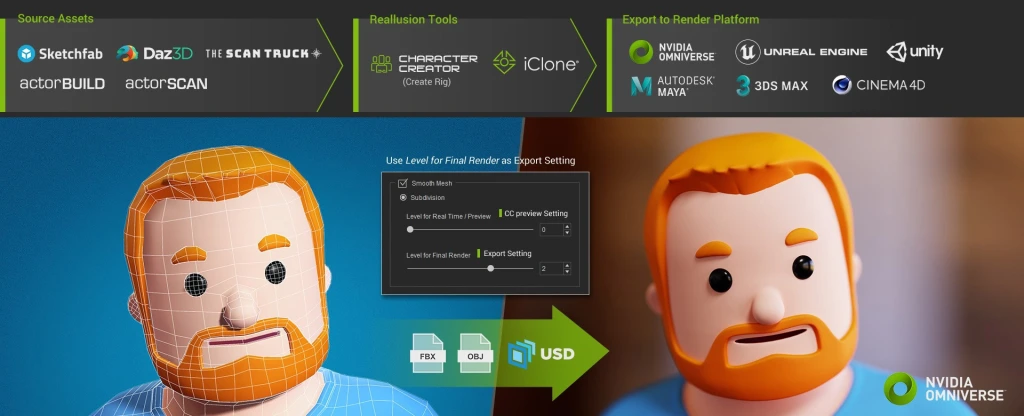 CC4.1 further advances its universal character creation system with the added ability to subdivide and export any animated character while giving high-resolution output for close-up shots.
Works with CC3+ character bases and imported, auto-rigged characters with quad faces.
Subdivision smooths out the silhouette of real-time, low-poly quadrangular models, and enhances ray-trace shader quality.
FBX/USD animation output that is compatible with all render engines.
Live Link subdivided animation to Unreal Engine and NVIDIA Omniverse.
iClone 8.1 Update Highlights
UNREAL LIVE LINK 1.1 – SEAMLESS ICLONE & UNREAL ANIMATE-TO-RENDER WORKFLOW
This release further empowers the popular iClone-to-Unreal workflow with Live Link 1.1 update: headline features including Scene Imports from UE5; iClone to Unreal Motion Transfer; and Timecode Sync for Full-frame Recording. In addition to the highly anticipated React-to-Surface feature for Motion Director, iClone 8.1 presents a substantial upgrade to take final renders to the next level, thanks to the industry-only Subdivision Export for fully-animated characters.
Timecode Sync Recording
Frame-drops were a common downside of Live Link being heavily dependent on hardware performance — especially prevalent while live recording heavy data streams. Live Link 1.1 addresses these hiccups with the advent of timecode-based recording which transmits and records full-frame data, even on substandard system specifications.
Two-Way Data Link
Whether you want your iClone characters to interact with the Unreal scene or simply try to position them in the right places, you'll benefit from the Ureal-to-iClone scene transfer feature which completes the package for bidirectional data links.
Motion Transfer and Animation Retargeting
Circumventing the long-winded process of exporting FBX models and motions to Unreal, iClone directly transfers fully-framed motions to Unreal projects and turns them into animation assets that can be edited in Level Sequencer. These features offer a new avenue for animators looking to integrate iClone and Unreal in practical and intuitive ways.
Direct animations for iClone/CC characters in UE. Watch More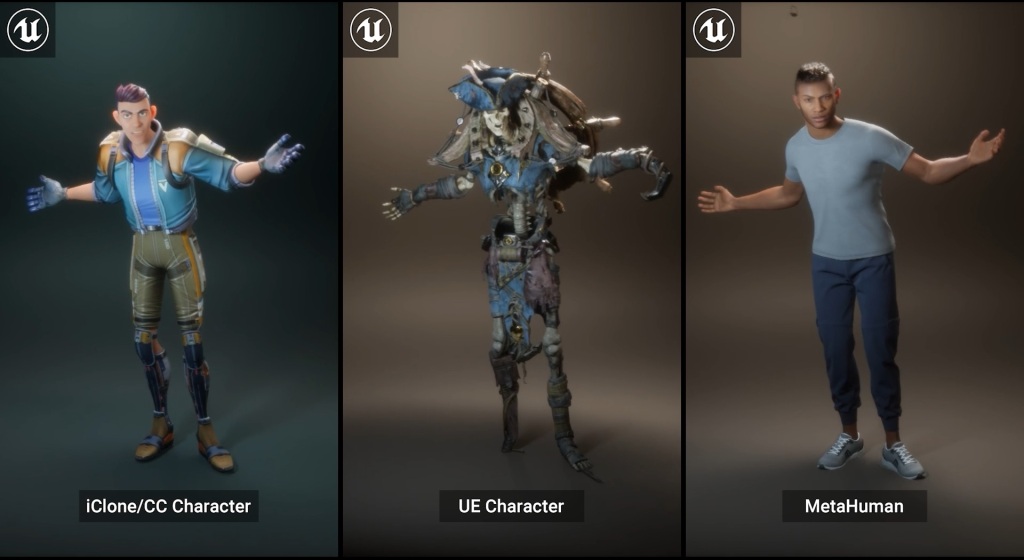 Motion retargeting for UE characters and MetaHumans. Watch More  |  Bring MetaHuman to life

Drive MetaHumans with iClone facial tools.  Watch More |  Bring MetaHuman to life

Prop Animation Support
Prop animation transfer includes animated objects, vehicles, and non-humanoid characters such as creatures. Watch More
Live Link Morph Animations to UE via iClone Morph Animator
Perform organic motion by applying morph animation to props or skin-bone characters. Watch More
MOTION DIRECTOR – REACT TO SURFACE

Motion Director is handy for navigating your characters in 3D space, and great for making ambient NPC animations. The newly-added React to Surface lets characters move smoothly on a mesh surface.
Advanced Surface Sensor Settings

Climb/Fall Limit: Cap the character's upper and lower distances from the current ground level to reach a different elevation.  Watch More
Transpose Damping: Adjust the damping intensity to reduce or smooth jittery movement caused by changes in ground height. Watch More
Input Forecast: Define the prediction time for surface detection to raise and lower the character ahead of its movement.  Watch More
Supports Displacement Terrain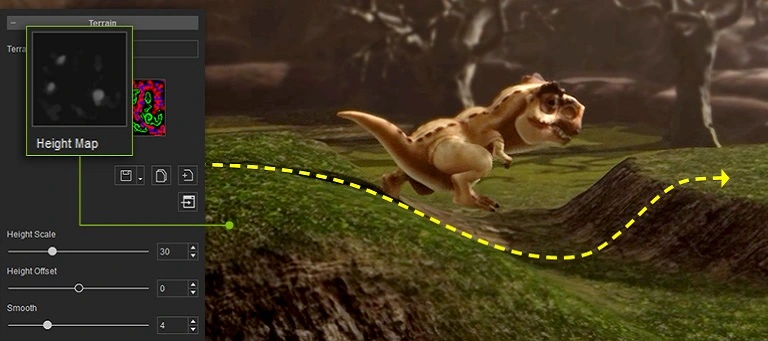 Snap to Surfacefeature works for irregular mesh generated from displacement texture, and it is fully compatible with the Natural Terrain Generator plugin for iClone.Watch More
iClone Animation Live Links to Unreal Target Scene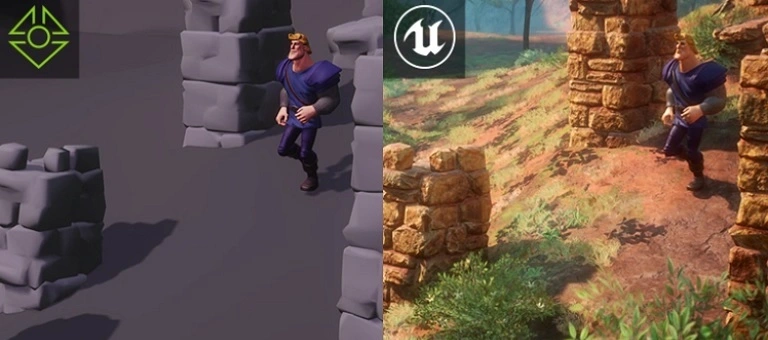 Adapt iClone/CC animations to UE scenes via iClone Unreal Live Link. Watch More
---
Learn more about Character Creator 4 and iClone 8
Website: Character Creator 4 | iClone 8 | iClone Unreal Live Link | iClone Motion Director
Forum: Character Creator 4.1 Discussion | iClone 8.1 Discussion