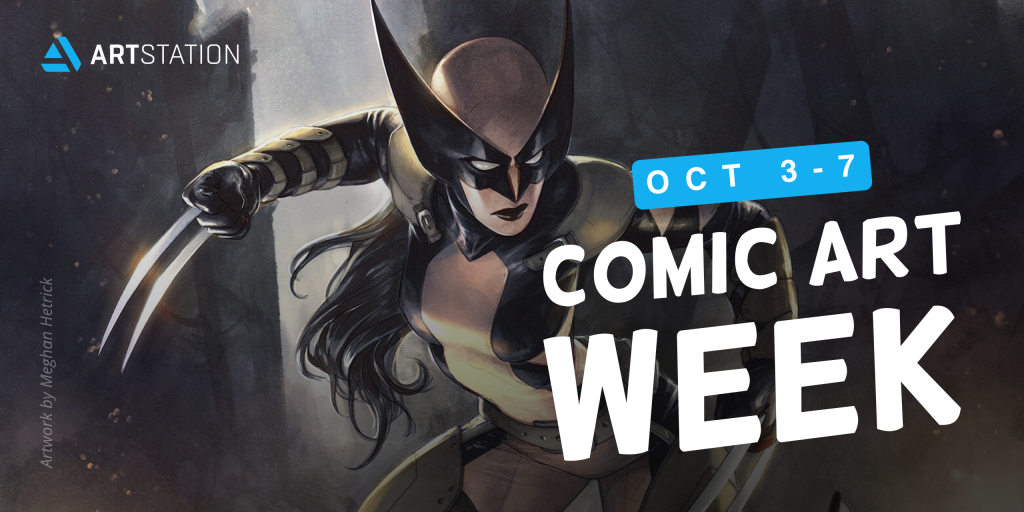 Comic Art Week Returns to ArtStation
Comic Art Week is back for a third time on ArtStation, and it's going to be bigger and better than ever! From October 3rd to 7th 2022, join us for a celebration of all things comic art. You can look forward to exclusive live Q&A events on ArtStation Blogs, exciting educational releases, and more.
In addition to joining our Q&As, you can also take part in Comic Art Week by keeping your portfolio up to date. Make sure you've properly tagged your comic art pieces to help the ArtStation community discover your work!
---
FAQ
How do I upload my work to the Comic Art Channel?
When uploading or editing a project from yourportfolio manager, scroll down to the "Subject Matter" section of the page. Add "Comic Art" to your project with the search bar. After you publish, your work will be added to the Comic Art Channel.

How do I follow the Comic Art Channel?

Gohereand click follow in the top right corner of the "Comic Art" button in the channel row to add it to your homepage.
How do I participate in live Q&A events?
Comic Art Week Q&As are live text-based events held on ArtStation Blogs. Check back in on this announcement for links to the artists' blog pages where the Q&As will take place.
---